'the modernist' boutique hotel opens inside the former canadian embassy in athens
following the success of its first property in downtown thessaloniki (see previous coverage here), 'the modernist' opens a second boutique hotel, this time in athens. settled into the former canadian embassy in kolonaki, a high-end neighborhood in the historical heart of the greek capital, the hotel welcomes guests in a relaxed, elegant environment that seamlessly combines art deco elements, mid-century detailing and danish design. the brainchild of entrepreneur kostis karatzas, 'the modernist athens' has been developed with the same emphasis on local creativity as its counterpart in thessaloniki, introducing travellers to the city's artistic community through highly-curated experiences.
'the modernist is about contemporary hospitality that inspires curiosity and authentic experiences,' says kostis karatzas about the project. 'ethics and aesthetics course through everything we do, as an invisible thread that connects us with the world. following the opening of our first property in thessaloniki two years ago, athens was a natural next step for us. and this is only the beginning for our brand.'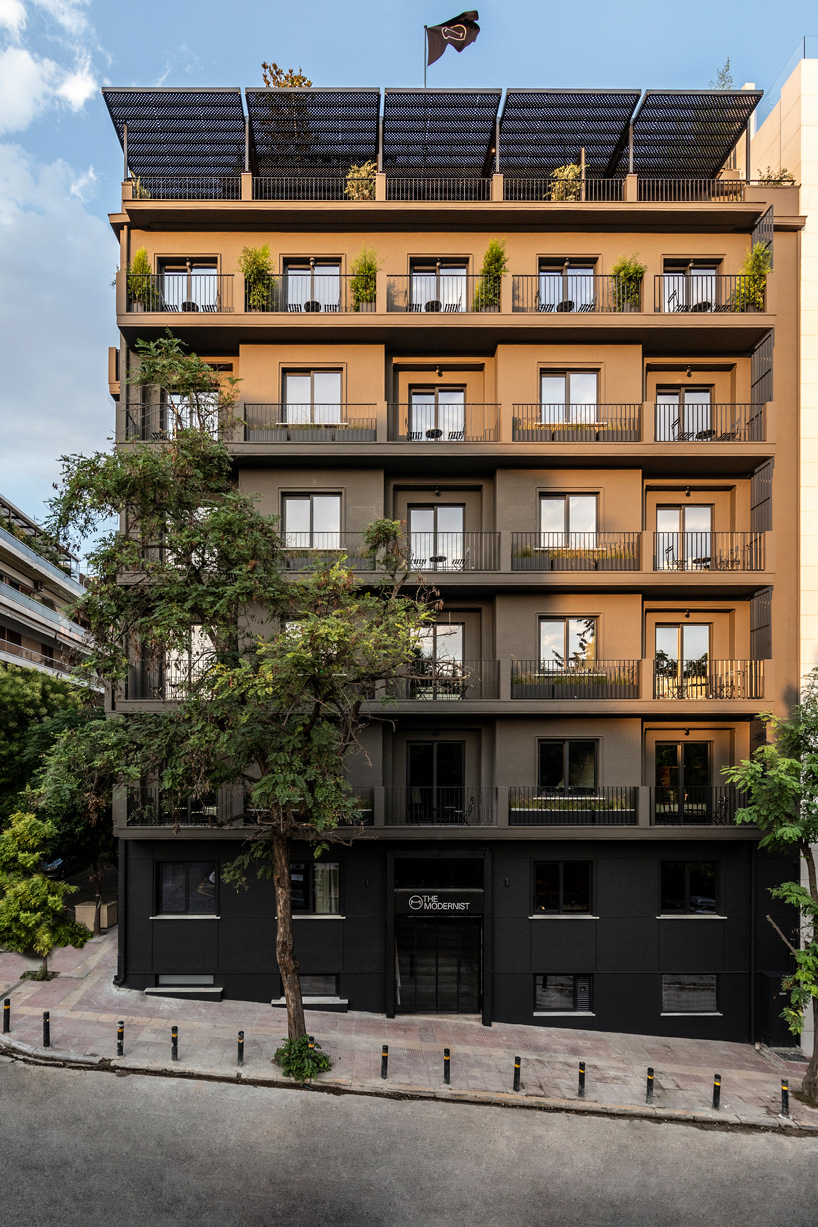 all images by ioanna roufopoulou
'the modernist' athens sits on the southern slopes of lycabettus hill, a mere couple of miles from the acropolis, surrounded by world-class galleries and museums, great shopping streets and a vibrant nighttime atmosphere. occupying the former canadian embassy building, the hotel features a blend of the minimalism of post-war 1950s architecture, and the nowness of sleek yet subtle contemporary spaces. its design, developed by collaborating architects FORMrelated, is characterized by sharp contrasts in color and shape, an elegant material palette, custom lighting and made-to-measure furniture.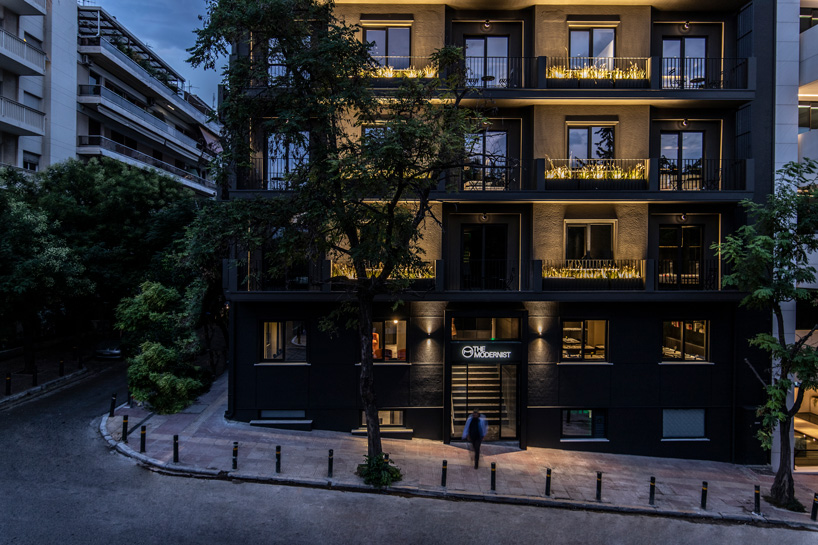 upon entering the hotel, guests are met with an eclectic mix of hues and materials, including marble, plaster, bronze, and black glass, which define the lobby. on the ground floor, the breakfast buffet doubles as an all-day cafe bar, where plywood and marble blend together to create a warm atmosphere. the hotel's common areas are complete with the rooftop garden, which also serves as an open cinema with breathtaking views of the acropolis. 'the modernist' also offers itself as an events epicentre, hosting workshops and talks by guest artists on its ground floor.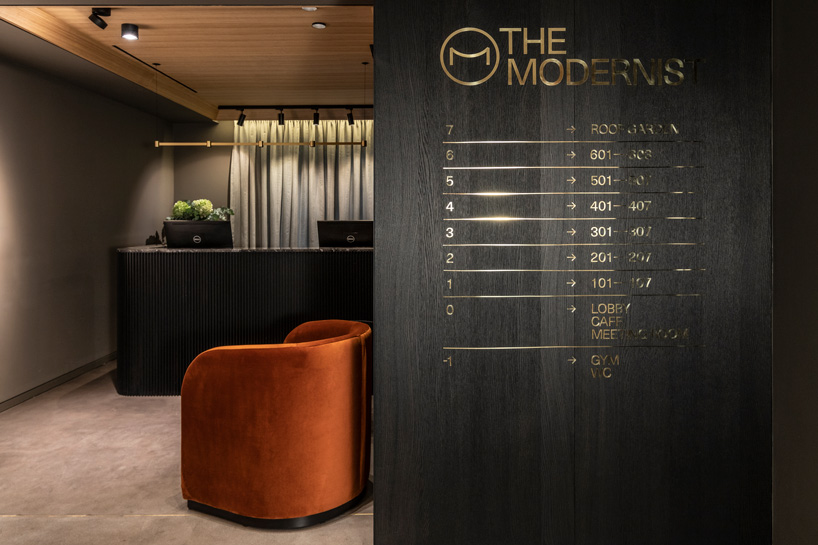 the 38 rooms of the hotel spread across six floors, with four options – S,M,L,XL – that make it easy for guests to pick the one that best fits their individual needs. with the exception of a series of signature pieces in the lobby, selected from a mix of local and international interior design brands, the furniture, lighting and uniforms of 'the modernist' are custom-made. inside the guest rooms, oak wood floors, leather headboards and midcentury-inspired furnishings are combined with embossed veneer panels and bronze details. similar to its sister property in thessaloniki, 'the modernist' athens features contributions by local creatives, from ceramics and the artwork on walls to tailor-made music playlists, and even a vinyl collection that's in the works.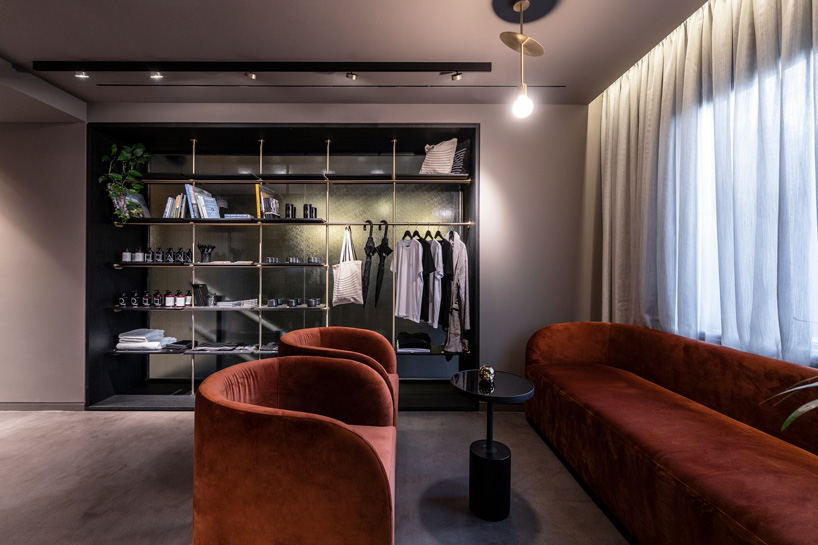 'we see the modernist athens becoming a compelling value proposition not just in living but in the experience industry as well,' say FORMrelated founders konstantinos theodoridis and eleni papaevangelou about the hotel's design. 'we want its guests to be able to move and thrive in this space, in this small and intimate unit that manages to encapsulate contemporary luxuries in such an understated way.'