The only thing worse than hidden hotel fees is trying to figure out how they work. What are resort fees? How much do they cost? How much will it cost to bring a pet? Or park my car?
To help make sense of these complex policies, we compared fees at dozens of hotels across major U.S. hotel brands and ranked them from best to worst. Since these fees and their policies vary from property to property within the same brand, we used real-world bookings to determine these rankings.
We compared four fee categories:
Resort fee frequency — the percentage of properties that carry any resort fee.
Resort fee cost — the average cost of those fees.
Pet fees.
Parking fees.
We selected properties from each hotel program in the same cities, including tourist destinations known for their common resort fees (Las Vegas, Orlando, etc.). We totaled the fees from each category above to determine the overall nightly average.
As far as we know, no similar analysis of hotel fees is publicly available, so we didn't know what to expect. Would budget-focused brands like Best Western make up for low room rates with high fees, similar to budget airlines? Would resort fees be spread evenly across brands?
Best overall
Winner: Radisson
Radisson hotels offered moderate resort fees at the few properties that carried them, along with very low pet and parking fees. Best Western, hot on Radisson's tail, offered similar resort and parking fees, but higher pet fees. Which is to say: If you don't plan on bringing a nonhuman companion, both of these brands offer exceptionally low fees.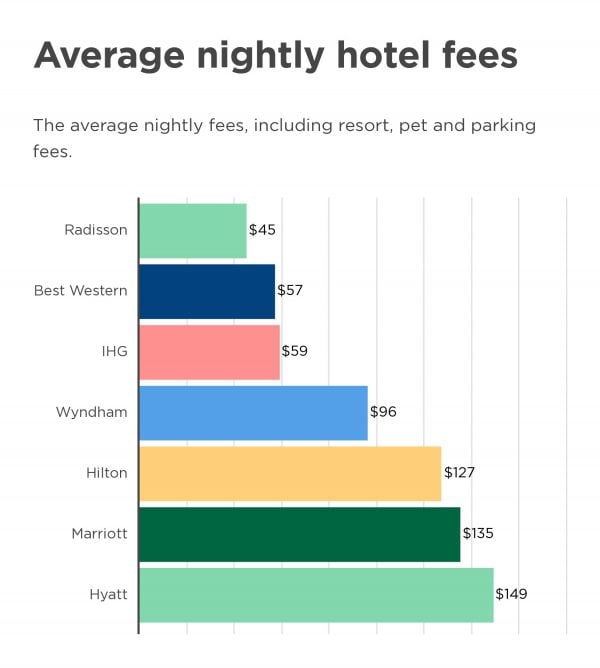 Interestingly, this analysis clearly didn't favor some of the "big name" programs like Hyatt, Marriott and Hilton. Yet it's important to note that these fees were considered on their own, not as a percentage of overall price. So it makes sense that more luxurious brands, like Hyatt, would be dinged for higher fees.
Resort fee frequency
Winner: Radisson
Resort fees represent a constant source of irritation for travelers. These fees were first introduced at high-end properties to justify some amenities they afforded. These days, resort fees are slapped on many properties near tourist destinations with thin justification.
Yet our analysis revealed that these fees are not applied consistently between brands. Over half of Hyatt hotels carried these dubious fees, while only one fifth of Radisson properties did. We compared both high-end and budget options from each brands' portfolio, so this difference alone can't explain the variation in resort fee frequency.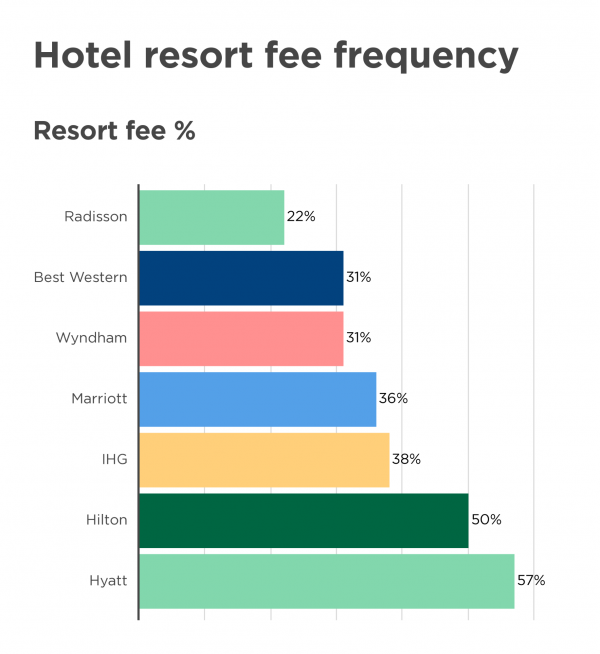 Resort fee cost
Winner: Best Western
The frequency of resort fees is one thing, while the actual price tag associated with these fees is another. We found a surprising range in the cost of these fees between and within programs.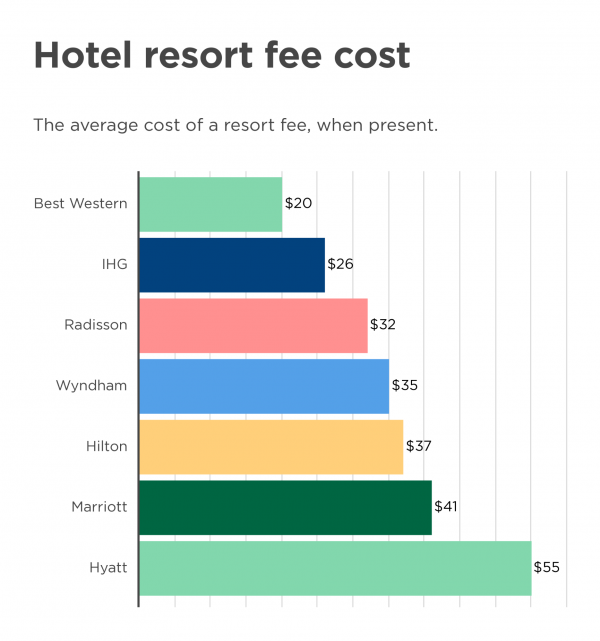 On the one hand, it makes sense that programs with an emphasis on luxury would carry higher resort fees. On the other hand, these fees can be deceptive and misleading — tacking on extra costs that are not visible to travel
…
Continue reading