When Painter arrived at the Birches serviced apartments in East Melbourne, she breathed a sigh of relief.
"I've always said I just needed one person to treat me with a little bit of respect and I'll flourish, and that's what I've done here at Birches," she said.
She is one of 2,000 rough sleepers in Victoria who were offered hotel accommodation during the pandemic – a program that has been heralded by service providers as extremely beneficial, and a possible road to ending rough sleeping once and for all.
Painter, who goes only by her last name, said she had been able to get off all drugs and, with the help of the hotel owner, Jenny Kerr, had begun painting and started to think about the future.
"Here I'm safe. S. A. F. E. It's amazing what that one little thing will do, having a camera outside your room and knowing you can lock your doors."
After Covid-19 was declared a pandemic the Victorian government announced it would double crisis funding to $6m to help homelessness agencies find temporary housing for those sleeping on the streets of Melbourne.
Unlike in other states, some Victorian rough sleepers were asked to contribute to the cost of their rooms, with some paying several hundred dollars a week.
The government promised the program would be extended until April when more than a thousand private properties would be subleased for rough sleepers. But two weeks ago Painter received a text message telling her the funding had run dry and she needed to call to discuss alternatives.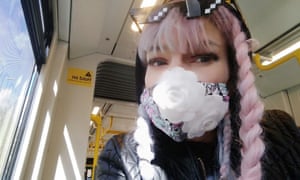 "It's really scary, because not only will I end up back on the streets, I will lose everything I own, again," she said through tears.
For 25 years, Painter was in an extremely violent and abusive relationship. She became addicted to ice and heroin. When she fled, she ended up on the streets where she faced further abuse and sexual assault.
"It's just trauma, trauma, trauma and I'm trying to get past it. Knowing that I'm going to be homeless again in two weeks, it's like, what's the point?"
'No one was telling us anything'
When the $150m Home for Homeless program was announced, the premier, Daniel Andrews, said in a press release the funding would "extend current hotel accommodation until at least April next year while these 2,000 Victorians are supported to access stable, long-term housing".
But in a document distributed to support workers by the Department of Health and Human Services later in the year, seen by Guardian Australia, the message was less clear.
"There may be a perception that emergency accommodation (EA) is available for all people in EA until April 2021. However, this funding is part of a package designed to support people to exit hotel accommodation, not to sustain all tenancies until this date," the letter reads.
A spokesperson for the government
…
Continue reading