Just outside West Terre Haute on Tuesday morning, a young woman walked toward Terre Haute along U.S. 150 as cars and trucks sped past her.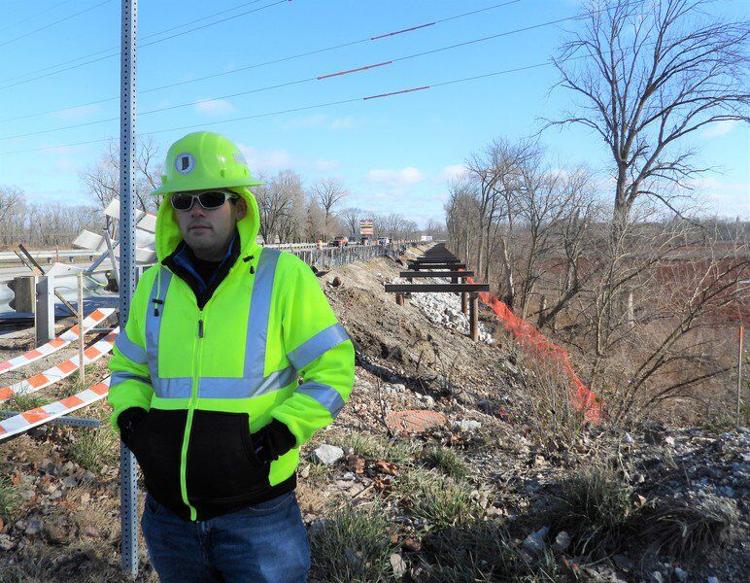 She walked just a few feet from traffic. That's because there's almost no shoulder area between the edge of the highway and the steel roadside barriers. "The Grade," the 1.1-mile stretch of roadway between the two towns, is risky for the numerous people who walk or bicycle to their destinations.
At that same moment Tuesday, construction continued on a remedy to the longtime hazard.
It's a success story, a community-wide effort that will provide safety, as well as an economic boost and recreational opportunities.
Anyone who's driven between Terre Haute and West Terre Haute since late August has undoubtedly noticed the early-stage progress on a new pedestrian walkway, adjacent to the south side of the U.S. 150 pavement.
Once it's finished in October 2021, that young woman and other pedestrians or bike riders will be able to trek to and from West T and the Haute without feeling the air gusts of SUVs and pickups that motor by at an average rate of 16,000 vehicles a day, according to 2018 figures from the West Central Indiana Economic Development District.
This solution to that decades-old problem alone validates the project's $6.2-million cost.
The walkway opens up other benefits, too.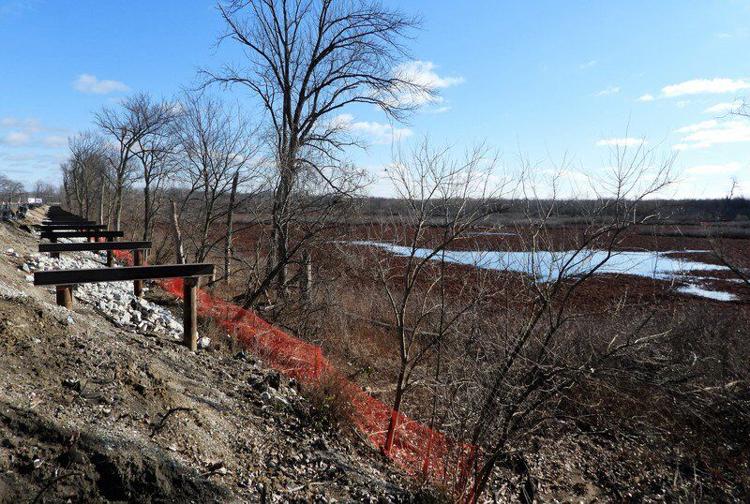 It unlocks a virtual dead-end to the popular National Road Heritage Trail, which winds for 30 miles through eastern and central Vigo County and across the Wabash River before reaching the no-room-to-safely-walk-or-bike segment of U.S. 150. Thanks to the walkway, the Heritage Trail system could someday connect Vigo County's four college campuses. Heritage Trail also can now extend to Illinois and link with burgeoning trail systems in Vermillion, Parke and Sullivan counties.
And, the walkway makes the Wabashiki Fish and Wildlife Area and its Wabashiki Trail more accessible. The new pedestrian bridge will run alongside the 2,700-acre wetlands, which was set aside by the state of Indiana in 2010. The numbers of hunters, anglers, bird-watchers, hikers, runners and picnickers using Wabashiki's amenities will grow.
Terre Haute and West Terre Haute could become a destination for groups of cyclists, runners and outdoors enthusiasts, just like other Midwestern towns that anchor long-running trail systems.
Constructing the walkway on the slope between the highway and wetlands requires some architectural finesse.
Three-hundred steel pilings are being driven 30 to 60 feet deep into the soil to support the walkway, explained Ben Leege, the Indiana Department of Transportation's project engineer. Those 12-inch-diameter pilings are then
…
Continue reading