Do Not Disturb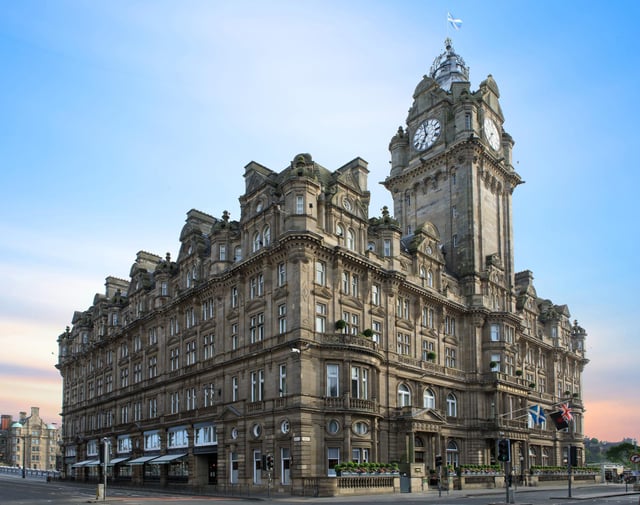 The Balmoral hotel on Princes Street, with its iconic clock tower, is a city landmark.
Exquisite architecture, world-famous views, lavish interiors and the very best in fine dining: The Balmoral Hotel truly ticks all the necessary boxes for a 5-star stay.
Considered among the most luxurious hotels in the British Isles, this elite Edwardian beauty with its majestic clock tower has kept watch over central Edinburgh since 1902.
And it's that very same iconic timepiece, traditionally set three minutes fast so that rail passengers would make it to their Waverley platforms on time, which ensures that all The Balmoral's guests arrive fashionably early no matter the season.
The spacious lobby in The Balmoral Edinburgh
Bosses at the North British Railway Company, the original owners of the hotel, were able to claim the perfect site for their grand station hotel. The Balmoral's address – No.1 Princes Street – serves as the ideal base to plan the civic sightseeing trip of a lifetime.Now owned by the Rocco Forte group, the hotel is up to date with all the latest amenities, such as a gorgeous pool and top spa facilities, but retains its traditional spirit.
Following the Scottish Government's announcements and phased exit from lockdown, The Balmoral reopened its doors on August 1. Covid-19 prevention measures are visible the moment you walk in into the main lobby with masks, disposable gloves and hand sanitisers available to all guests. Staff are adhering to government guidelines regarding cleanliness and disinfection procedures. More information can be found here: https://www.roccofortehotels.com/special-notice/
Bar Prince, Balmoral Edinburgh
Celebrity guests at The Balmoral over the years include Sophia Loren, Elizabeth Taylor and the Queen Mother, which tells you all you need to know about the clientele this 5-star hotel regularly attracts. Spend a night here, and you'll feel like an A-lister too.
The hotel has 167 rooms and 20 vast suites all luxuriously dressed by renowned interior designer Olga Polizzi, sister of Sir Rocco Forte, and evoking Scotland's natural and cultural heritage.
Furnishings are of the highest quality, with rooms featuring handmade beds from Glencraft – suppliers to the Queen at Balmoral Castle – and textiles by popular Glasgow brand, Timorous Beasties.
Marble and a free-standing bath make the bathroom in the Scone & Crombie Suite a luxurious place to relax
And, while there is no such thing as a bad room at The Balmoral, many rooms are enhanced by the views they boast out over the key landmarks of central Edinburgh.
Due to coronavirus restrictions, The Balmoral's Michelin-starred Number One restaurant remains closed, but don't let that deter you, as the sumptuous Brasserie Prince makes for a suitably rewarding substitute. A delightful blend of French and Scottish cuisine, the relaxed restaurant, which is also surprisingly affordable, is as perfect a place as any to enjoy a first class meal.
The serving of alcohol, for the time being,
…
Continue reading