Unlike many pubs and hotels that regularly change hands, the Hotel Rose Bay has been in the same family for generations. While they could appreciate the humour/novelty of features such as the moving train, they were keen to broaden its cliental and strengthen the connection to strollers passing by.
"Previously the windows and openings were relatively small, fixed with dark tinted glass," says Richards, who replaced these with larger, timber bifold doors and windows.
The facade was also lightly touched to provide a new lease of life.
However, it's the interior where most of the work has occurred.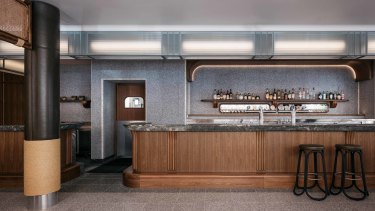 Richards Stanisich, which amalgamated the adjacent bottle shop, took its design cue from the location, being near the water, and also from the materials popular in the 1920s, particularly rattan and cane.
"Even though it's interwar, we also included influences from the art nouveau period (turn of the 20th century)," says Richards, pointing out the rattan screens complete with porthole windows dividing the spaces within the hotel: the sports bar, the public bar and the bistro for dining.
One of the problems with the former arrangement was its open plan, creating a larger, more vacuous space.
"It's important to create a sense of intimacy.
Loading
We find open plan struggles in the comfort factor," says Richards.
There's also a subtle nautical theme given the hotel's location, including structural columns bound in coir rope and in sumptuous moss-green leather (a nod to the seaweed).
"Our clients wanted to focus on the food and the ambience, attracting a younger audience and families. They wanted the design to be fairly classic but one that would endure," he adds.
The rattan appears not only in the customised screens, but also in the distinctive coffered ceiling, ideal for absorbing sound with concealed acoustic panels.
The rattan also doubles as air vents.
Bamboo, another material popular in the 1920s, was also used to edge the bar front as well as the customised bespoke wall lights.
Terrazzo floors and tiled walls still create a sense of the 1920s, but the spaces are now lighter and more transparent.
And rather than having air conditioning units plugged on the walls, rattan vents, combined with timber ceiling fans, add a more tactile and more sustainable approach.
Loading
As well as a new and larger kitchen, Richards Stanisich has focused on every detail, be it the timber and leather furniture or getting the light exactly right.
The steel and ribbed glass customised light above the 15-metre-long granite-topped bar, for example, adds a soft and gentle glow, while still loosely referencing the modernist art-deco period.
Around the terrazzo-tiled walls are white corner beaded tiles to create a contemporary nod to the hotel's former glory.
"We wanted to create a level of consistency throughout the hotel, rather than just provide a few features that beckon for attention," says Richards.
While the moving train was a talking point for the
…
Continue reading