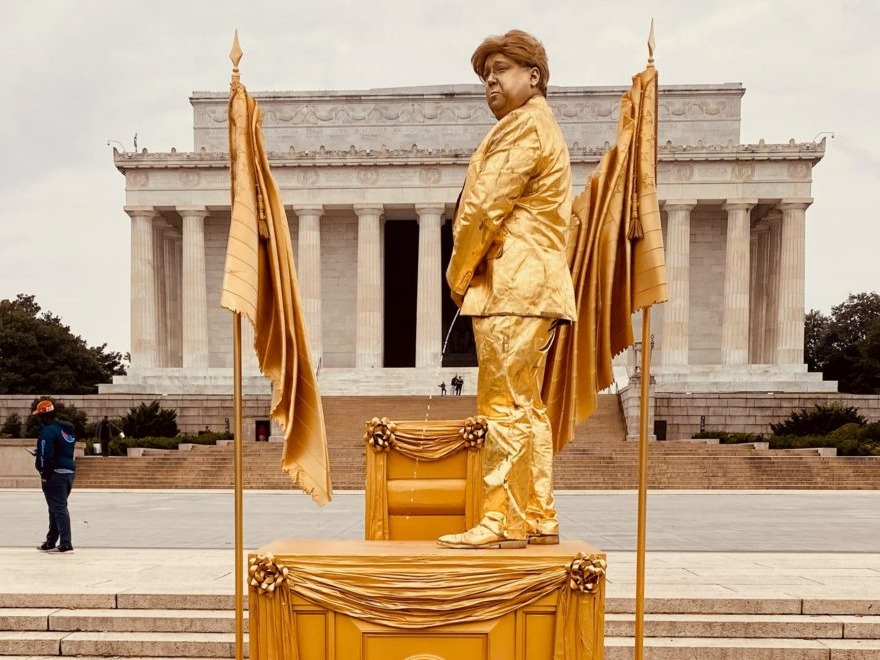 For a few interesting hours on Tuesday, a street artist covered in metallic gold paint stood on a pedestal at the Lincoln Memorial. He was painted to resemble a statue, but his pose was unlike any of the other statues installed around the nation's capital: Hands in front of his crotch, he appeared to be peeing into a chair beside him.
"Fill That Seat," the pedestal read. "Donald Trump: Destroyer of Civil Rights and Liberties, 2016-2020."
The provocative art project-slash-protest took aim at Trump's decision to fill Supreme Court Justice Ruth Bader Ginsburg's former seat a week before the 2020 election. Congress confirmed Amy Coney Barrett to the Supreme Court on Monday. Barrett is the third Trump appointee to be confirmed to the country's highest court.
It was organized by filmmaker Bryan Buckley, a two-time Oscar-nominated director and longtime left-leaning activist, as part of his Trump Statue Initiative.
Buckley first installed a handful of anti-Trump living statues around the District in July. One, called "The Poser," depicted Trump holding a Bible as law enforcement officers beat a Black Lives Matter protester in front of him. Another showed Trump ordering a child in a face mask to go back to school.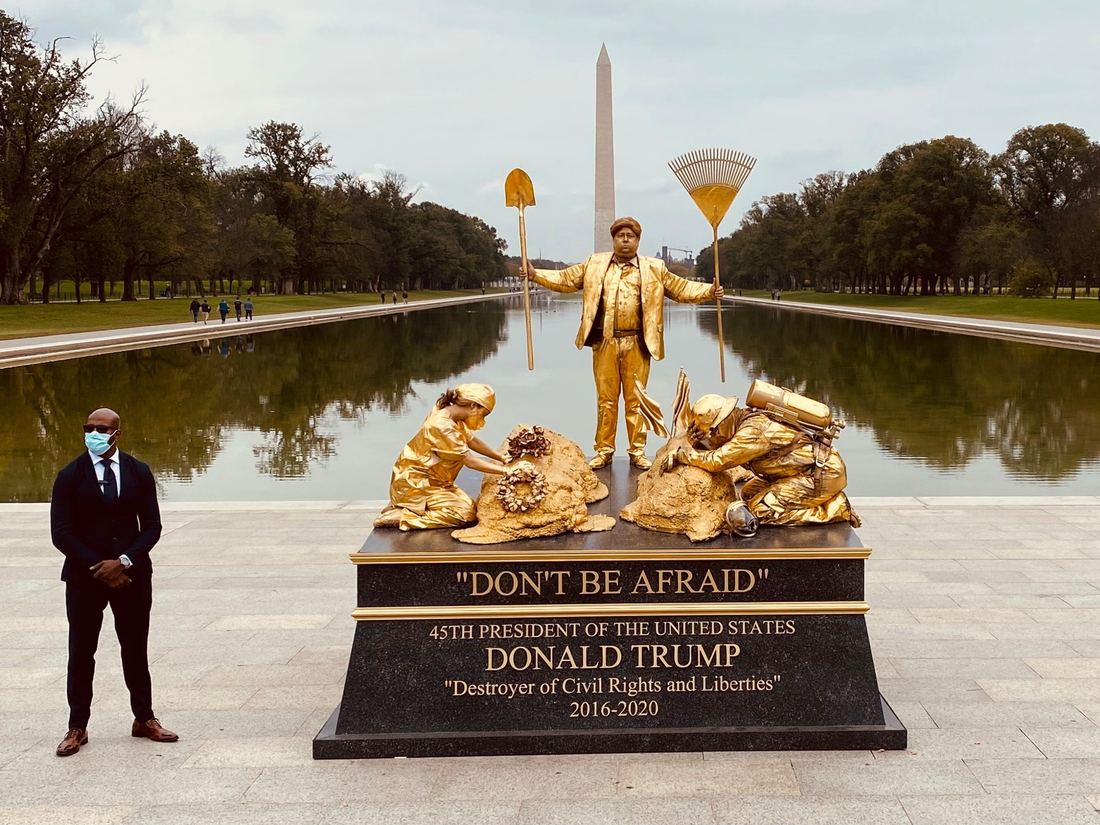 "I noticed that Trump was obsessed with statues," Buckley told AdAge in July. "I felt like the best thing we could do was to create these very honest statues of the legacy he's living right now, that let the world see exactly who he is."
Buckley has since taken his work on the road, organizing pop-up exhibitions in cities across the country.
Tuesday's exhibition included four different statues: "Fill That Seat" and "The Poser," as well as one addressing Trump's response to the COVID-19 pandemic and the West Coast wildfires.
A fourth living statue, set up in front of the Trump International Hotel, critiqued Trump's "lame attempt to put fear into suburban female voters," according to the artist's statement. Titled "Safety for the Suburban Housewife," the piece depicted Trump looking up the dress of a woman perched on a ladder.
Each statue was accompanied by a performer dressed as a guard. Nearby, a violinist played songs that pop musicians have asked not to be played at Trump rallies.
Though the art installation only lasted for a day, the artist is also petitioning to make "The Poser" a permanent installation in D.C. However, the change.org petition does not make immediately clear whether the permanent version would be a real statue or involve live performers.